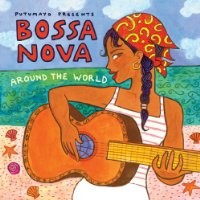 Although bossa nova (new trend) is a style of music that originated in Brazil, its been embraced by musicians all over our planet.
This mixing of bossa nova and other traditional jazz and pop music styles has resulted in this latest addition to the Around the World series by Putumayo World Music.
Bossa Nova Around the World features 12 musicians who have taken the melodic strains of Brazilian music and infused it with their own music traditions; adapting bossa nova into the world of Francophone music is showcased by Didier Sustrac and Tom & Joy on Meditation and surprisingly with Korean pop by singer Monla on the song Railroad.
Other influences found in the collection include the sweet strains of Cape Verde by singer Nancy Vieira, German alt pop from electronica duo 2raumwohnung, American Stacey Kent paired with her husband, Brit jazz musician Jim Tomlinson and Serbian jazz tempeter and composer Dusko Goykovich.
Additional performers include Mexican/Canadian jazz singer Amanda Martinez, Norwegian jazz vocalist Hilde Hefte, French artist Kad Achouri and Canadian-based Brazilian vocalist Bia.
A sultry addition to any traveller's  playlist, Bossa Nova Around the World is especially for those who like to hear the unique experimentation that takes place with this distinct Brazilian music style.
For more information: Putumayo