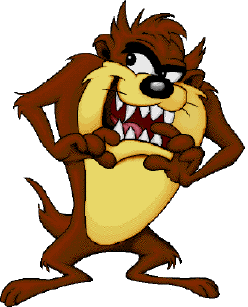 When you've travelled to Tasmania, everyone asked me – did you see a Tasmanian devil? It was the first question from my friends and family, young and old. And yes, I did.
I was asked what I knew before I saw a Tasmanian devil – what size it was, what colour it was and realized many of my assumptions were based on Taz, the crazy cartoon character from Warner Brothers. Not exactly a reliable source.
So when I realized I had no idea what this small marsupial looked like – I was even more intrigued to meet a Tasmanian devil.  Would it be ferocious in any way? Would it be scary or mean?
And this is what I got to see –  the real deal. The Tasmanian devil – black, with a few white spots, red ears and a fairly quiet demeanor.
These animals are solitary and aren't found wandering the countryside in groups, looking for a fight.
In fact, the Tasmanian devil is endangered, and with the help of places like Bonorong Wildlife Park where I got to see this devil, there's hope for their future survival.
But as you can, not the brown ferocious beast who would whirl into a swirl of dust and attack for no reason.
And really – this is how this devil acts  with Greg, the owner of Bonorong Wildlife Park, where this devil lives for now, until hopefully gets to move back to the wild:
So now you know the real deal. Don't believe the hype!
For more information: Bonorong Wildlife